Who is it for
Our passion is helping tech start-ups and scale-ups push their business further. We'll help you determine the best approach depending on what stage you're currently in.
Seed/Early Start-ups
We'll begin with a detailed marketing plan so you can hit the ground running, including outlining the best tactics and channels for your specific business.
Series A/Growth
Now it's time to upgrade your marketing efforts. With the right experts, we can complement your in-house teams and move the needle forward.
Series B/Scale
At this stage it's time to pinpoint the specific skills your in-house team is missing. Whether it's entering new markets or launching eye-catching creative campaigns, we have experts and agencies ready to help.
Strategy and seamless execution first. Our community consists of both experienced strategists and vetted freelancers with niche marketing skills
We focus on results. That starts with determining your needs to ensure your marketing plan is achievable and expectations realistic
We offer both team integration, stand alone services and expert mentorship
Freelancers and agencies are constantly evaluated and reviewed in order to ensure you receive the best quality of service
Services to help you grow
Our curated community of marketing experts can drive your growth. Whether integrated with your existing team or working independently under a Program Manager, we'll match the right person to the right project — every time.
Strategy and Mentoring
Marketing audit and strategy
Grow your business with a marketing plan tailored to your needs. Your Fractional CMO will detail an action plan, including the team, tools and budget you'll need to reach your goals.
Full-Stack Marketing Engine
It's a crowded market. So cut through the digital noise with a message that's been honed by industry experts. From product marketing and demand gen, to messaging and design — say the right thing at the right time to the right audience to convert leads into paying customers.
Marketing Technology Infrastructure
Conversion-driven websites
Put your website to work. Our specialists will help your site convert new prospects, and give you the solid MarTech infrastructure you need to get ahead. Track what works and use that invaluable data to craft your next marketing program.
Sales Enablement and SDR-as-a-Service
Lower costs, increase leads and drive conversions with the tech industry's top salespeople. And the best part — our experts are ready to scale up as soon as you are.
MODULE HEADING
Join as a freelancer
Put your skills to work
We're constantly looking for top talent with a background in B2B tech marketing. Think: CMOs, product marketers, strategists, copywriters, branding experts and automation specialists.
We're constantly looking for top talent with a background in B2B tech marketing. Think: CMOs, product marketers, strategists, copywriters, branding experts and automation specialists.
If you're top talent looking to help B2B tech start-ups and scale-ups grow, please apply below.
Our approach
No two businesses are alike — so we believe in a dynamic marketing model designed for your unique needs. Working from the ground up, we'll give you a strong marketing foundation that can scale and pivot as your business changes.
We start with a 30 minutes consultation, completely free of charge.
You'll meet with an experienced B2B marketing mentor who will discuss your goals, determine what you're missing and offer practical advice. Or you can access our curated marketplace and select your vetted freelancer.
After determining your needs, we will either:
a. Help you build out your marketing strategy. One of our Fractional CMOs will design your marketing action plan and ensure a seamless execution through in-house, freelance and agency resources.
b. Put you in contact with specialized marketing experts or agencies. This follows a traditional marketplace 'pay-per-need' business model.
Our model is flexible and can easily be adjusted as your company grows or your business pivots.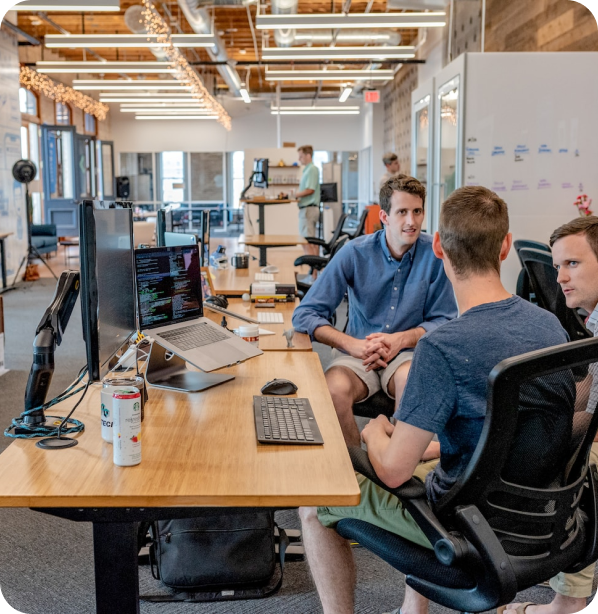 More than a marketplace,
think of us as an ongoing strategic partner.